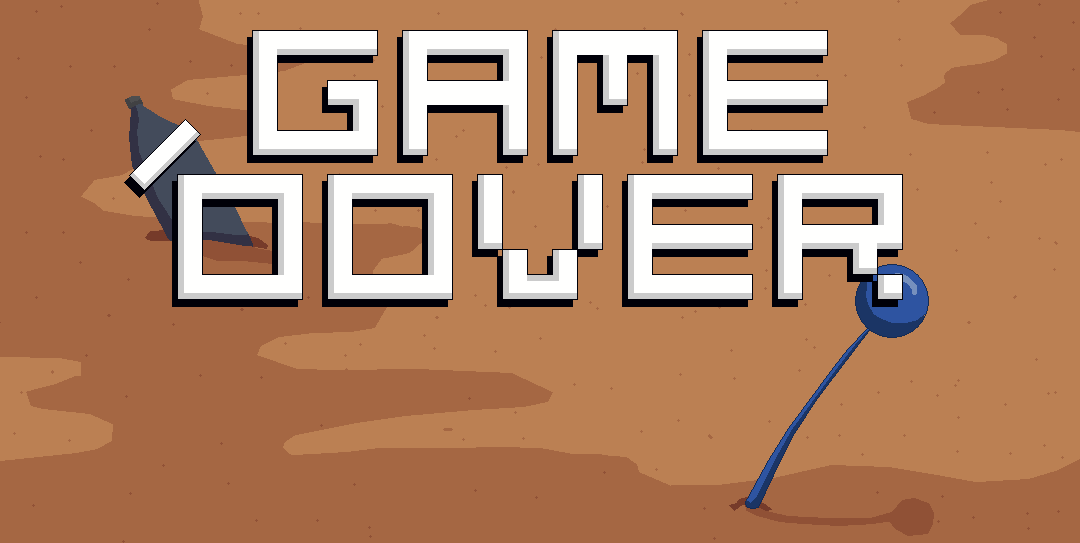 Game 'Oover - HTML5
Game 'Oover

Welcome to the wastelands of post-apocalyptic Earth. You play as a futuristic vacuum cleaner known as 'Oover and you are the last surviving chance to save the planet from total destruction in under 5 minutes.
With the help from Recyclosphere 5000, a robot which produces swarms of nanobots from your collected junk to clean the atmosphere; you can hoard collectable junk by sliding left and right, hoovering everything in reach and bringing it back .
You need to be strategic and fast, and don't stray too far from your power cable.

Go back and forth, there and back to clear the waste and save the world, it's a race against time before it's all Game Over for Game 'Oover!

Art and Programming by Waken Games.
Developed for VimJam entry (18-25 September 2020)
Focus: Collectables
Theme: There and Back
Postmortem and fixes after game jam: Music and sound remixed, Battery indicator triggers earlier and 'Oover does not shut down instantly but slows down making it more forgiving and fun to play, A and D keys for movement, improved collision detection on hoover physics, menu artwork improved and full screen enabled.

2022 Update - Touch Control Development:
I am revisiting this project to add further control options for mobile devices. I have been working on other mobile prototypes in the background and have created a responsive joystick system that will be a great fit for this game.
Comments
Log in with itch.io to leave a comment.
very challenging game! I keep losing to low battery :/ great concept :)
Really fun gameplay. Love the concept and the use of collectible and "there and back" is just perfect. I like the idea of disposing garbage in the game.
One major complain would be the overall sounds. It's way too loud which force me to lower the volume down. If you could fix that then you fix the biggest problem in the game.
If you haven't already. Check out our jams here https://meltedbrainz.itch.io/the-forgotten-artifact

Thank you for your feedback I really appreciate it. Yes I will be fixing all sounds once the jam has finished.
I played your game yesterday, rated and fedback. Good game 👍

very addicting, although it did say something about extending your cable? I couldn't seem to find where that option was. but I really liked the vacuum physics. I tryed to do that and could figure it out, would you mid sharing how you did that (I use unity I don't know what you use but im sure its similar)

Thanks for your time to play and I really appreciate your feedback. For extending your cable; each time you return 2 full loads of junk, your cable is automatically extended by 10 metres. The game was created in Clickteam Fusion 2.5 which has a range of automated movements. I simply switched the junk object to look in the direction of the vacuum once it is switched on.
It was addicting, to say the least. I enjoyed the use of the theme and tying it to something that makes sense.
Amazing game! Simple concept executed perfectly.
your game is really cool!
This game was really fun to create. I hope people enjoy the post-apocalyptic hoovering! Any feedback would be great. A HTML version is now available.